Party buses have become the go-to choice for groups looking to intensify their celebrations.
Whether it's a birthday bash, bachelor or bachelorette party, corporate event, or just a fun night out with friends, the allure of a party bus is undeniable.
Among the various options available, mini, small, and Sprinter party buses stand out for their unique features, accommodating sizes, and exciting atmospheres.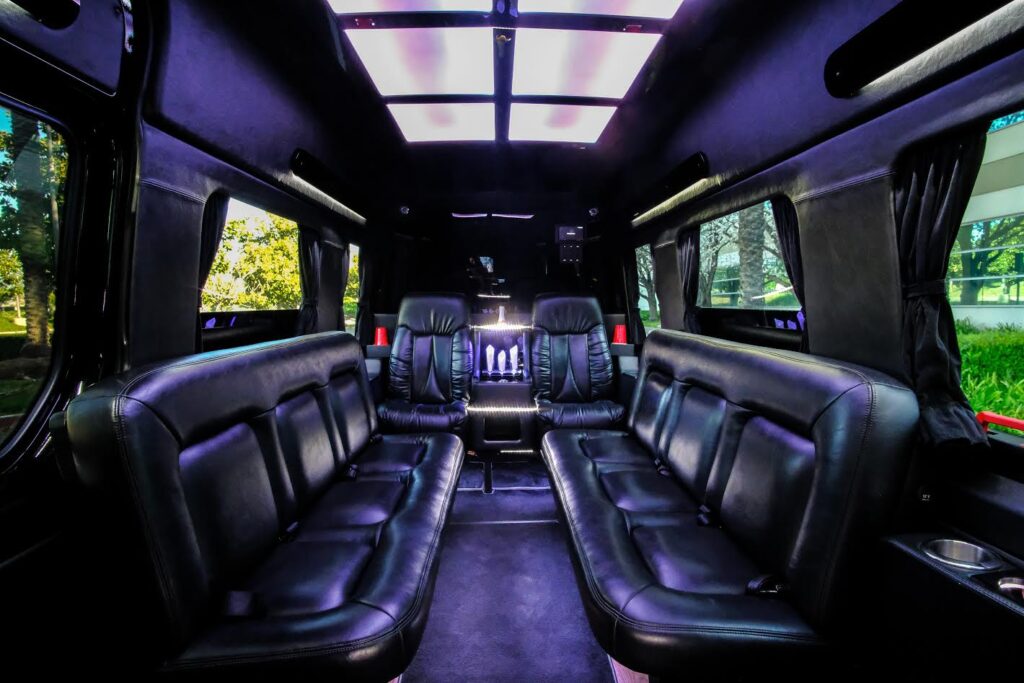 Mini Party Buses
Mini party buses are the height of compact luxury. These smaller-sized buses are designed to cater to intimate gatherings, accommodating groups ranging from 8 to 20 passengers.
Despite their size, mini party buses pack a punch with their amenities. Equipped with luxurious seating, LED lighting, sound systems, and mini-bars, these buses create an intimate party ambiance.
mini party bus interior
Their compact nature makes them ideal for steering urban areas and maneuvering through busy streets, offering convenience and accessibility.
They're perfect for smaller events like birthday parties, prom nights, or city tours, where a more intimate and cozy setting is preferred.
Small Party Buses
small party bus
Small party buses strike a balance between intimacy and a bit more space. With a capacity ranging from 20 to 30 passengers, these buses offer more room for socializing and moving around while retaining the charm of a personalized party experience.
They come equipped with upgraded sound systems, LED lighting, and comfortable seating, and often include amenities like TV screens and beverage stations.
small party bus interior
These buses are versatile and suitable for a wide range of events, from larger birthday celebrations to weddings or corporate outings. Their size allows for a comfortable atmosphere without compromising on the party vibe.
Sprinter Party Buses
Sprinter party bus
Sprinter party buses represent a blend of sophistication and functionality. These sleek vehicles boast a modern and upscale interior design, accommodating groups of up to 14 passengers.
Despite their smaller size compared to traditional party buses, Sprinters offers a premium experience with leather seating, state-of-the-art entertainment systems, mood lighting, and minibars.
Sprinter party bus interior
Their compact size makes them highly maneuverable, allowing access to venues or locations that larger buses might find challenging.
They're popular for executive outings, airport transfers, or intimate gatherings where style and comfort are paramount.
Choosing the Right One
Selecting the perfect party bus depends on the size of your group, the type of event, and the atmosphere you desire.
For intimate gatherings, mini or Sprinter buses provide an exclusive experience, while small buses cater to slightly larger groups without compromising intimacy.
Consider the amenities you prioritize—whether it's a high-quality sound system, spacious interiors, or a specific ambiance.
Additionally, factor in the route and location; smaller buses might navigate better through tight city streets, while larger buses might suit suburban or rural settings.