Cape Cod, with its attractive landscapes and coastal allure, sets the perfect stage for a romantic adventure.
Among its serene beaches, charming towns, and captivating sunsets, there lies an opportunity for couples to embark on a luxurious and intimate journey.
Elevate this romantic retreat by exploring Cape Cod's charms through a carefully curated limousine experience.
A Limo for Two
Imagine being chauffeured through Cape Cod's scenic routes in a luxurious limousine, hand in hand with your significant other.
A limo offers not just transportation but an ambiance of elegance and comfort, setting the tone for a memorable getaway.
Beachside Serenity
Begin your romantic odyssey with a visit to Cape Cod's renowned beaches. From the secluded shores of Ballston Beach to the golden sands of Race Point Beach.
A limo tour allows you to savor the tranquility and breathtaking coastal views together.
A charming town on Cape Cod
Explore the quaint villages and towns dotted along Cape Cod. A limo ride can take you to iconic spots like Provincetown, Chatham, or the historic town of Sandwich, where you can stroll hand in hand, exploring local shops and charming eateries.
Sunset Spectacles: There's nothing quite as romantic as witnessing a Cape Cod sunset.
Arrange a limo ride to one of the scenic spots, like Herring Cove or Nauset Light Beach, and savor the mesmerizing hues painting the sky as you embrace the beauty of the moment.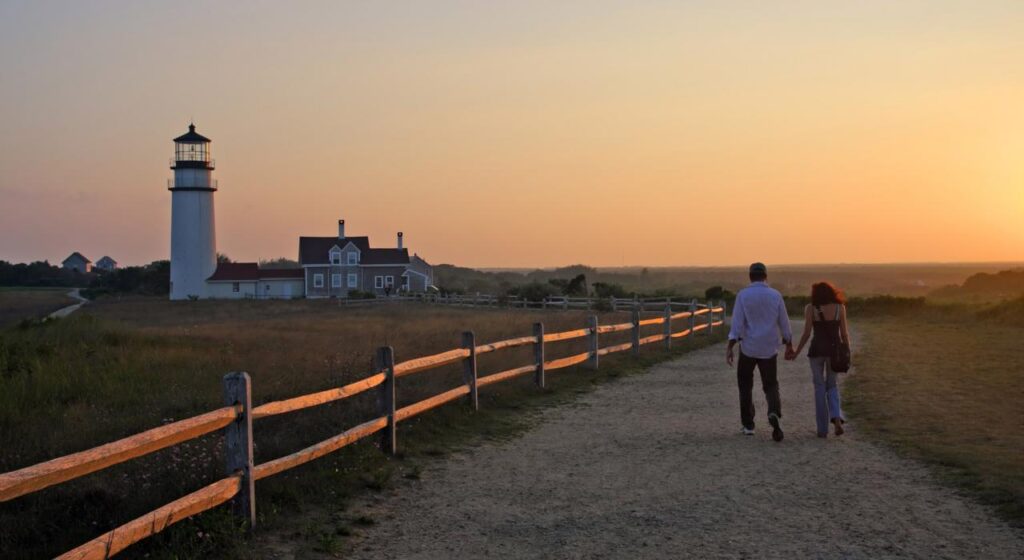 A Private Oasis
Within the confines of the limousine, you and your partner can relish in privacy and comfort. Sip on champagne.
Enjoy gourmet snacks, and revel in the intimacy of the moment as you traverse Cape Cod's picturesque roads.
Personalized Touches
Many limo services offer personalized experiences. Whether it's customizing the route to your favorite spots, arranging a surprise stop, or providing a playlist of your favorite songs, these personalized touches add an extra layer of romance to your journey.
Cherishing Memories
A limo ride through Cape Cod isn't just a means of transportation; it's an experience that evokes memories.
The shared moments of exploring, laughing, and simply being together in the lap of luxury amid Cape Cod's charm create unforgettable memories for couples.